Case Study Gravenwezel Ink Responsive Website Case Study
Project Goal:
Create a website for a tattoo shop that inspires potential customers by showcasing artists and their work and provide a prominent and simple way to book an appointment.
People seeking to get tattoos either for the first time or looking to explore tattoo artist portfolios.
Responsibilities:
User research, wire-framing, usability testing, prototyping, visual design
Research Conducted:
I conducted user interview with people thinking of getting their first tattoo and people who have many tattoos. I inquired about how they would choose a new tattoo, a tattoo shop, and/ or tattoo artist. I also conducted conversational research to understand what people were saying about their experiences at other tattoo shops.
Key Challenges:
There are numerous and highly personal routes people take to choose a tattoo that they want. This tattoo website tries to consolidate a person's searching by providing information about the shop's tattooists. It also provides a way for users to filter and explore tattoo images base on art style.
Results of User Testing
Most users were unclear about when they were during the booking process and wanted more reassurance on the confirmation page.
Many users were confused by the number of filters on the art styles page.
Some users found the artist pages cluttered with text, images, tags, and social icons.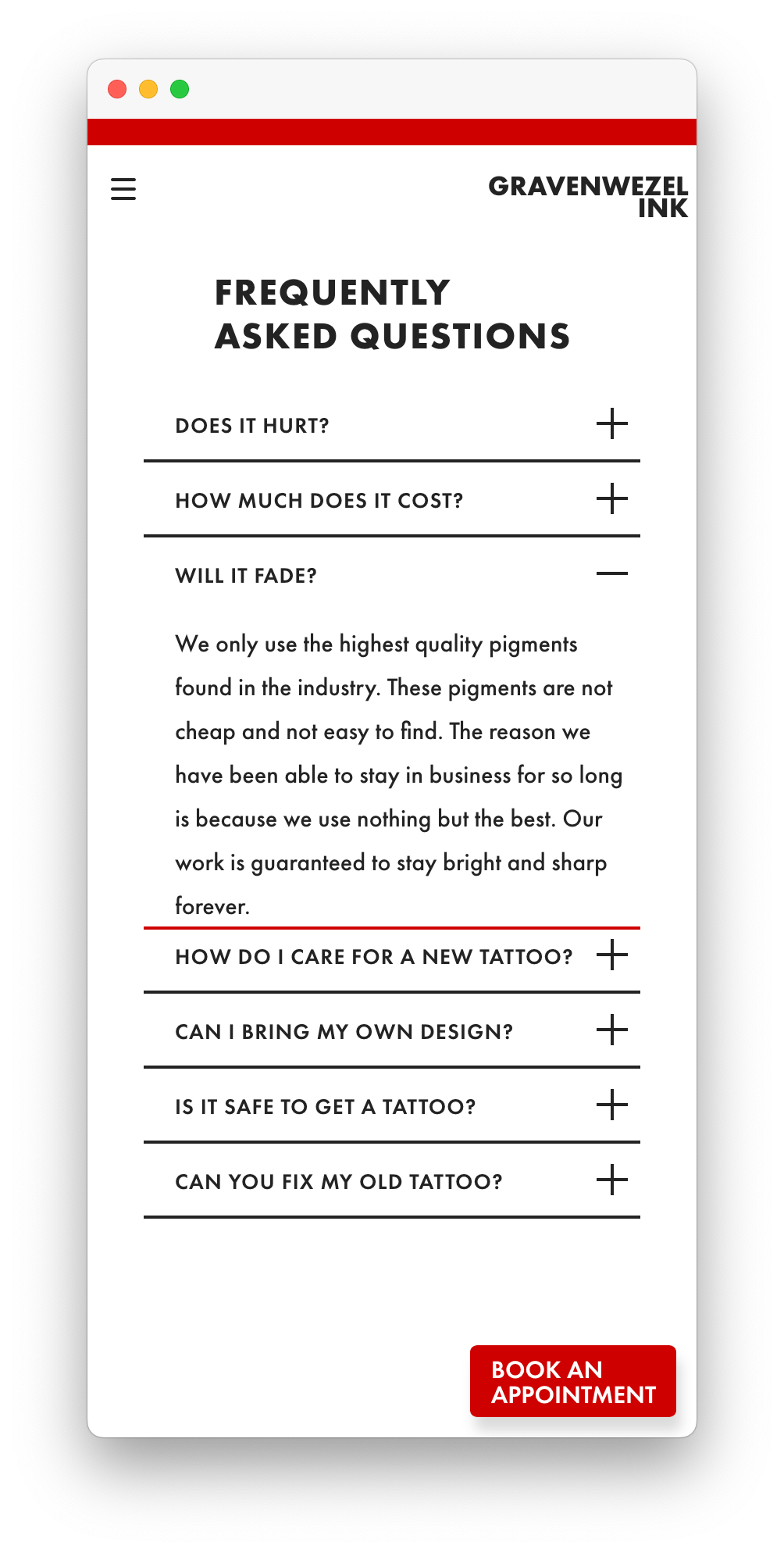 Conclusion
I assumed that finding a place to get a tattoo would be a straight forward process. However, I found that it often started with recommendations. Then it veered into a circular path of visiting tattoo shop websites then finding artists and looking them up on Instagram and repeating these steps until they had the confidence to book and appointment.
I learned that people use very different way to find what tattoo they want to put on their body. I found that they all involved a number of steps. Making a website for a tattoo shop that helps the customer feel confident and reassured was a challenge.
Next Steps
The user flow should be updated to show an expanded functionality of the filters on the Art Styles page. Then this flow should be usability tested.
The booking flow should be tested with other variations to study the drop off rate.
The website should be tested by a larger audience of users to make certain the site aligns with the tattoo shop's objectives.